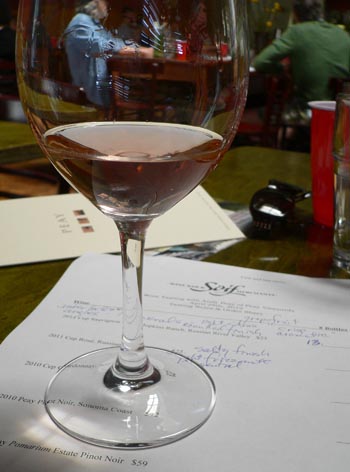 Anybody who wants to learn more about wines, winemaking and especially meet those who are most inside the process—winemakers themselves—should take advantage of the always-exciting wine tastings offered by Soif.  Generous pours, cheese, bread and Marcona almonds, lots of insider growing and tasting notes—that's a lot of value for $20.

Last week Mateo and I enjoyed a sampling of some of the best wines made in California, by Peay Vineyards winemaker Vanessa Wong.
Winery co-owner Andy Peay walked us through a few of the celebrated Pinot Noirs from this estate, plus two big surprise wines—a mineral-laced 2001 Cep Sauvignon Blanc, and a rosé, really a blush wine with a slight frizzante and a refreshing, salty finish.
It's a treat to find out how grapes respond in different regions, and learn more about how the alchemistry of winemaking challenges even the most experienced artisans.
Like all agriculturalists, winemakers are essentially at the mercy of weather.