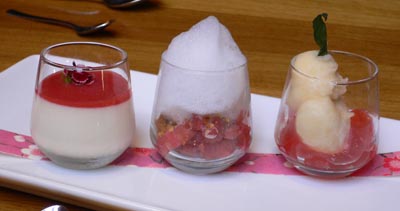 A dessert by Le Cigare Volant pastry chef Yoomi Shelton riffed on the theme of Live Earth Farms rhubarb.
From left—panna cotta topped with rhubarb coulis. In the center a rhubarb crisp topped with ginger foam! and on the right, jasmine ice cream on a brilliant bouquet of rhubarb gelée. Beautiful and delicious. Something I'm coming to expect from this exciting kitchen.
Lunches daily at Le Cigare Volant— starting May 21st!