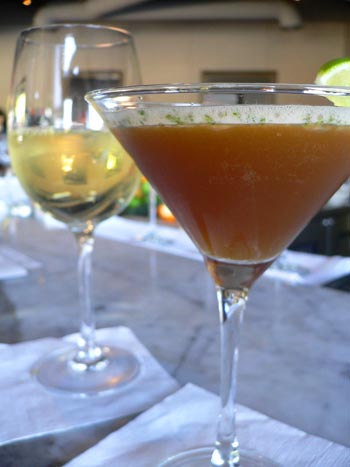 Just watching the mixologists at Oswald inspires awe. An intriguing array of ingredients—fresh mango puree, a wide range of bitters and herbal diffusions, muddled and minced fruit, citrus and botanical garnishes—wow, this is the sort of adult flavor-play that makes a grown woman crave a cocktail!
So I ordered one of the inventive specials from the Oswald menu — the Amorphous, requesting it to be shaken into a martini stem goblet rather than served on the rocks — and here's what I got.
The Amorphous is named for one of its key ingredients, amaro, that complex Italian bitters that is a close cousin to fernet.
So into the shaker went gin, fresh lime juice, ice, amaro and micro-diced fresh mint. Shake, shake, shake. Pour. Voila! A complex center of cola, a citrusy opening and minty finish. Incredibly refreshing! $9. Sip it slowly!
And go soon so you can check out the moody, Modiglianiesque paintings by Susan Hancey currently on exhibit through May @ Oswald.