The place was the upper garden terrace at Love Apple Farm, high atop Vine Hill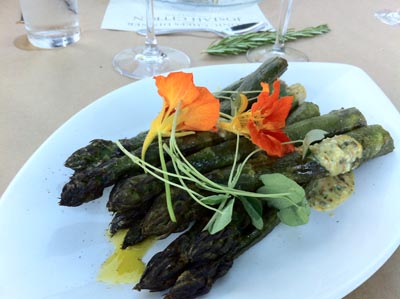 overlooking the ocean.
The chef was Josiah Citrin, whose 2-star Michelin Santa Monica dining room, Melisse, belongs on your short list of where to dine in southern California.
The ingredients included the seasonal organic luxuries grown by Cynthia Sandberg and her garden apprentices, the same produce that fuels the celebrated kitchen at David Kinch's Manresa.
[shown here, grilled purple asparagus with nasturtium sauce gribiche]
The inaugural event in Love Apple Farm's Iconic Chef series—dinner began with an astonishing array of finger appetizers, my favorite of which involved a thumbnail "coin" of poached abalone, embedded in chrysanthemum gelée atop a little green sorrel sauce. Each round appetizer had been placed on a spoon—one bite! Heaven.
Paired with a list of superb wines from Hallcrest Vineyards, poured by winemaker John Schumacher himself, the multi-course meal showcased three vegetable courses, which arrived after a little shot glass of chilled fresh pea broth topped with lemon foam. Inside, at the very last sip, waited a tiny pearl of yogurt, which burst into the last sip of the sweet pea broth. Witty, yes. But also voluptuous and tasty.
You can see how this went. With two wines, chardonnay and pinot noir, came salad of little gems, shaved cheese, veggies, herbs and flowers in a truffle vinaigrette. There were roasted spring veggies doused with an expert persillade and those killer asparagi.
Two main dishes, one wild king salmon with lemon balm glaze, and the ultimate dish – rare leg of lamb topped with fava beans, purple and yellow infant potatoes and wilted spinach. The lamb and the annular eclipse both proved dazzling, especially joined by a 2007 Hallcrest Vineyards syrah blend "Clos de Jeannine."
But dessert was the stuff of vision quests. Really.