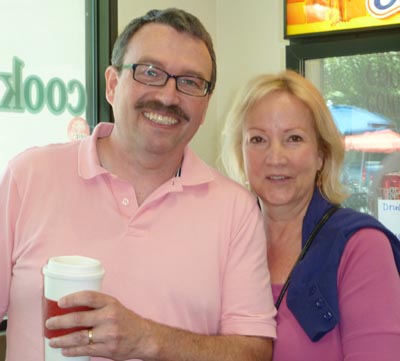 You live in a community sensitive, picky and gourmet-driven enough to boast delicious gluten-free pastries thanks to Red House Bakery entrepreneurs Tom and Anna Hayes.
I came upon Red House Bakery's amazingly rich and tender Orange Zest Sour Cream Pound Cake (yes, it tastes as good as it sounds) a few months back at New Leaf. I almost ate the entire slab in one sitting. And now Red House has partnered with Pacific Cookie Company to offer two brand-new cookies utterly without gluten (no wheat flour!), that bear the PacCookCo label.
So far the new gluten free cookie line features an authentic Snickerdoodle and a colossal Chocolate Chip Cookie with Sea Salt that will change your life. [Guittard chocolate chips!]
Stop by the downtown Pacific Cookie Company store and sample these new cookies developed by tenacious kitchen sorceress Anna Hayes. And look for other sinfully good Red House products, such as deeply chocolate fudge brownies, at New Leaf Markets.