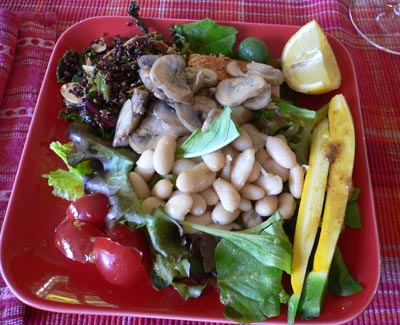 A favorite dining strategy of ours involves transforming one night's main course into a dinner salad the next night.
And example is a recent dinner of local King salmon. I always roast enough for a second night. In this case we added sauteed mushrooms (leftovers), cherry tomatoes, mixed farmers market greens, sliced yellow zucchini, white cannellini beans (always keep a few cans of these available in your pantry) and a dollop of fabulous black quinoa deli salad from New Leaf.
You can pretty much compose your salad out of whatever you've got in the refrigerator. Whip up a fresh vinaigrette—we like white balsamic, olive oil, garlic and jalapeño jelly—and you're good to go.