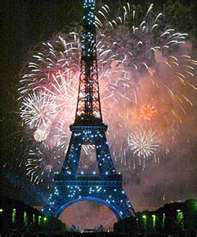 And here are two more possibilities among the many ways (see post below re: Storrs) to celebrate our Gallic cousins in their annual Fête Nationale.
Consider joining French wine legend Martine Saunier at a pouring of old world beauties, including vacqueyras, pouilly-fuisse, and blanc de blancs, chez Soif of course, where $20 can still purchase a seat at a palate-pushing tasting.
Soif's chefs offer a special Bastille Day menu as well, which includes tartine of lamb, flageolet bean purée and chèvre crostini, gnocchi a la Niçoise, a variation on bourride, and any number of Francoholic appetizers.  The wine tasting happens on Saturday July 14, from 2-4. Reservations and details here!
Or, join Michel and Muriel Loubiere at their intimate Aptos restuarant, Au Midi, for a very special menu to be served one day after Bastille Day, on July 15.
Au Midi's charming announcement says it all:
On Sunday, July the 15th with an extra day to prepare the party,
please be French for one night.
From 5 PM to 9 PM
Appetite and Attitude a must.
Mild French cursing accepted but no smoking…
No need to argue, except among friends. C'est magnifique!
And the menu includes a carpaccio of heirloom tomatoes, a classic beuf bourgignon with soft polenta and dessert or organic strawberry mousse with fresh berries and rhubarb coulis. Reservations only at a special price of $32.50. That price alone is reason to celebrate.
Au Midi Restaurant – 7960 Soquel Drive in Aptos. 831.685.2600.