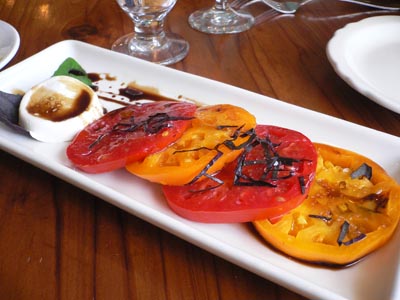 This outstanding appetizer salad of organic heirloom tomatoes, and a tumescent pannacotta laced with garden basil was one of many flavor-intensive summer dishes I enjoyed at Main Street Garden & Cafe last week.
Our main course— a wood-fired pizza topped with lamb sausage, yellow taxi tomatoes and basil salsa was a showpiece. Classic, thin crust, delicious, toothsome — authentic Italian pizza. The gorgonzola studding the pizza was the exact perfect counterpoint.
If you haven't stopped by here (the former Theo's) for a few months, you're in for a treat. The new owners are quite serious about presenting gorgeous, simple Italian country-style dishes.