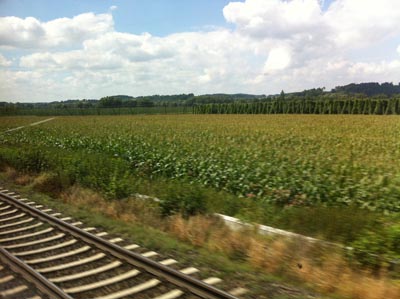 The three days of opera each cast their own enveloping auras. After Tristan und Isolde—a punishing 5 1/2 hour physical ordeal of heat and wooden seats—I sat almost speechless over Fernet Branca with a few other opera-goers and felt the music swirl inside me. I had undergone a symphonic transfusion from one century to another.
The second night's Tannhäuser—staged as a multi-story postmodern biofuel factory ignited by intense colors and unbelievable music—showcased the celebrated Christian Thieleman at the podium, utterly confirming his star status. We dined afterwards, under the stars at an Italian restaurant close to the opera house. Sicilian Syrah by Planeta accompanied beautiful salads, olives, gamberetti and vitello tonnato. Spectacular food after spectacular music.
The final opera evening I literally tore into a baguette and bratwurst surrounded by Daniel Craig lookalikes in tuxes. After two hours of the most astonishing Parsifal ever mounted, I was ravenous. And there were still two more acts to go!
And then it was back to Munich, sharing the bullet train ride with music critic Jens Laursen who confirmed that I'd just heard the finest Parsifal in recent history. (Photo above is of hops fields outside Munich.)
Under darkening skies I went with the flow and drifted towards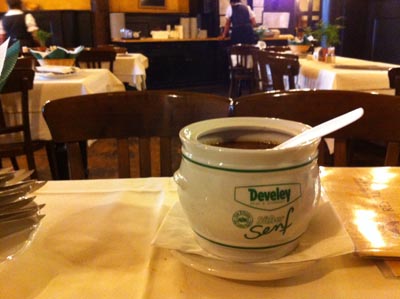 the magnificent Frauenkirche main cathedral, its market place filled with Gucci and dirndls, sausages and glockenspiels. Saudi women in full chador piled into limos with their shopping bags full of Prada and Fendi. English tourists outdid each other purchasing schlock souvenirs. Determined to sample an authentic Münchener weisswurst—the silken-textured veal sausage specialty—I headed for the 700-year-old Augustiner beer hall and a pack of surly career waitresses in white aprons and attitude.
The sausages were lovely, if a bit bland. The house draft beer—the light version—was delicious. And the mustard came in a ceramic tureen the size of a chamber pot!
After my late lunch I wandered into the food and meat concessions at the city's famous food markets, surrounded by what is considered a "small" beer garden the size of a football field. Everybody here enjoys life, locals and tourists alike. Nobody's dieting—and by the way, I saw NO overweight people in Germany. None. Not one. Okay, one. And he was a tourist from the United States.
But if I had wanted to go the way of all flesh, I could have done worse than the very inviting Cafe Luitpold, near Munich's Staatsopera house. Pastries from the hand of God were laid out like art treasures at Sotheby's.