Home @ 24 Sep 2012 03:10 pm by Christina Waters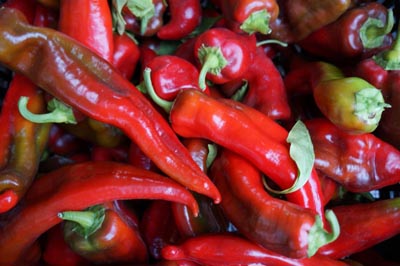 PEPPERFEST! Saturday, October 6th, Westside Farmers Market.
You know that pepper season is in full swing, so why not have an entire party to honor the brilliantly-hued vegetable? That was a rhetorical question, btw.
PepperFest will dazzle your Saturday, as will the peppery patter by master gardener Orin Martin, Manager of the Alan Chadwick Garden. Learn insider pepper lore from Everett Family farmers and watch a pepper roasting and smoking demonstration. Both sweet and hot pepper varieties will also be for sale at the Everett Farm booth, as well as others. The Westside Farmers Market runs from 9-12.  Get yourself down there by 11 am sharp for Orin's discussion on the mind-boggling variety of peppers you can enjoy right this moment of the central coast farm calendar.
[photo: Weston Monroe]
Leave a Reply