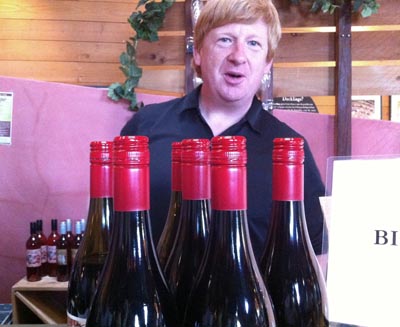 Some of us just can't get enough grenache—the berry-laden, spicy, stand-up grape that fuels the great creations of the Rhône, old world as well as new.
The Rhône Rangers — 150 wineries in the United States devoted to making wines from grapes canonized by France's Rhône Valley—gathered last week to salute International Grenache Day. And our local tasting opportunity to celebrate the under-appreciated grape, took place at the Bonny Doon Vineyard tasting room.
Assembled and pouring their grenache-driven best were winemakers from Big Basin Vineyards (kudos to Bradley Brown and his infinitely food-friendly 2010 Homestead GSM), Birichino (John Locke, shown above, brought his latest 2011 Grenache from Besson Vineyard), Clos LaChance Winery (a bold 2008 Grenache), Martella (renowned winemakerMichael Martella poured his own brilliantly-balanced 2009 Fiddletown Grenache), Storrs (a statuesque 2009 Central Coast Grenache) and a rare taste of Ridge Vineyards' elegant 2002 Lytton Estate.
Randall Grahm's various flying cigars were on offer as well, reminding us all just how much Le Cigare Volant has done for the hard-working grenache grape.
Meanwhile, the winemaker himself was out in back happily crushing the new 2012 harvest of garnacha, as he likes to call it.