Home @ 26 Sep 2012 12:29 pm by Christina Waters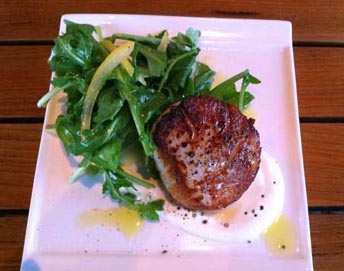 That would be the evolving dining room-with-a-view at the edge of the beach in the Dream Inn.
The new chef on board at Aquarius is Brian Drosenos who brings experience and robust menu ideas to the choice oceanfront property. He already has formed alliances with local food artisans such as El Salchichero and Route One Farms. More local wines dot the menu, gorgeous tapas plates—like the seared scallop with Greek yogurt and preserved lemon shown here—are available in the lounge. Live jazz on Thursdays and reimagined dining room appointments make Aquarius very very appealing. Definitely a place for locals—not just their out-of-town guests.
I had a sensational introductory meal there a few weeks ago, and left making plans for a quick return visit with some finicky food-loving friends for cocktails and Drosenos' mouth-watering new menu.
One Response to "New Age of Aquarius"
I'm still enjoying Restaurant Week, since there's one more night - tonight!

I had already chosen Aquarius, based on this past review, then further endorsed in this week's SC Weekly.

So, I made it to four places and it would have been more, except I had two other dinner commitments that were unrelated to SCRW. Winning a gift cert on Facebook was surprise icing on the cake.
Leave a Reply