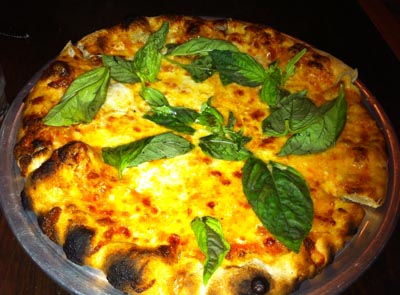 Halloween is our excuse to escape to Avanti – and this year we chose to return to one of our favorite neighborhood spots, now transformed into Pizzeria Avanti.
Let's just say that it was great to be back. Very little has changed, except for some appetizers, salads (the fab broccoli and white bean salad remains!) and pizza-intensive menu.
Here's our 12 inch pizzette involving a simple, classic bit of heirloom tomato sauce, plenty of supple mozzarella and fragrant fresh basil.
We also enjoyed a pretty little salad of baby arugula, yellow beets and avocado, infused with a radiant vinaigrette of shallots and lemon zest.