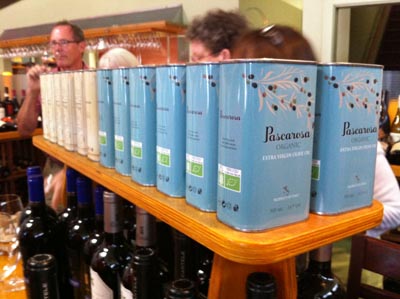 Former Santa Cruzans Catherine and Brian Faris fell in love with southern Italy many years ago. Many of us have done the same. But few of us have followed through and actually pulled up stakes, moved to Puglia, purchased an olive orchard, and proceeded to create a line of organic olive oils that give new meaning to the phrase "extra virgin."
Pascarosa is the brand name of the latest Faris adventure. Named for a small village adjacent to the estate olive orchard, the olive oils—two styles, one lighter and 100% certified organic, the other richer, more complex, and made from olives grown under organic conditions—they are irresistibly delicious.
A lively tasting party two weeks ago at Soif Wine Bar gave locals a chance to see Catherine and Brian after many years absence, and also to sample the new oils accompanied by a few choice Italian wines stocked by Soif. The results were many sales and lots of oleoginous gossip. The attractively packaged oils in 16 oz. cans come with ingenious fastenings and a $19 – $25 pricetag. Our house salads love Pascarosa—currently available at Soif.