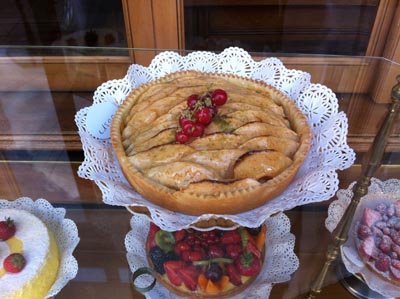 Now that I've been back for almost two weeks, the glow is beginning to fade. Milan's architecture bears the legacy of northern European rulers, hence the faux Viennese appearance. Save for Leonardo's justly famed Last Supper, (or il Cenacolo Vinciano) it hardly qualifies as a tourist destination. This means fewer tacky t-shirts and more resident Italians. Unless you're continuing on up to Como and the enchanting lake district, you might never stumble across Milan.
Classy to the max, Milan was founded by Celts and made famous by Fendi, Ferrari, Armani and Zegna. Fashion rules here and designer eye candy is in full view 24/7. I was here to indulge in Wagner's four-opera Ring cycle, performed at the elegant Teatro alla Scala in a seven day marathon. The Ring was performed at major opera houses all over the world this year in honor of the composer's 200th birthday, but I chose Milan for food, climate, and the chance to wander around a great Italian centro storico for a week. (A customs officer at Munich sniffed at me, "you could have heard Wagner in Germany!" Yes but I would have sacrificed the pasta.)
It will take a few more days to unpack the art, music and food charms of a city so far north that most people here are bi-lingual in Italian and German. Snow-covered Alps visible from most balconies, Milan offered the best espresso and pastries I've eaten since, well, Rome.  Check back often for my full report…..