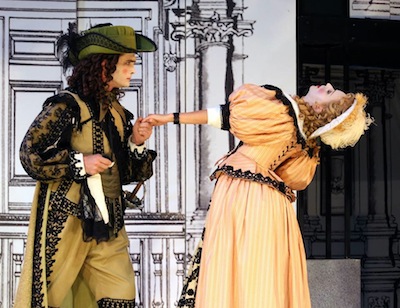 Here's a sneak peek of my review of The Liar—the entire piece is in this week's GTWeekly. 
Santa Cruz Shakespeare's nimble new production of The Liar is the sort of searing live comedy that blows all things digital right off the map. Every single actor in this splendid production is remarkable. That needs repeating. Each and every actor adds sparkle. Nothing interferes. There is no down time. There are none of those, er, moments where you look at your cell phone and wonder how much longer the play will go on.
Romping through a very brisk 2 1/2 hours, the entire ensemble ran away with the opening night audience. Not since Richard Ziman's Falstaff have I laughed so hard. Director Art Manke—whose Bach at Leipzig remains one of my fondest theater memories—took an exceptional cast and set it on fire. You always know what's going on and every minute of it is delicious. Strap yourself in. The Liar is a triumph—a show smart enough to disarm skeptics and sexy enough to delight audiences in need of pre-Candy Crush fun.