Seven Golden Globes? No way! I saw La La Land, and La La Land was no Manchester by the Sea. Light, upbeat, feel-good, fun to watch, catchy tunes, Ryan Gosling—but nowhere near the award-grade film that some others were. So what's the deal?  I think I figured it out.
True to its breezy, glitzy, dreamy title, La La Land delivers a retro loveletter to the entire idea of show biz. In this small but charming film the "city of stars" is romanced in both Cinemascope and cotton candy colors and plays as a sunsplashed backdrop for the tale of two star-crossed lovers and the tension between their love and their dreams. (Old story, ambitious Hollywood wannabees meet, share their dreams, fall in love, and then—think A Star is Born, Singing in the Rain, etc). Director Damien Chazelle's decision to avoid irony in making this love story liberally laced with singing and dancing was a smart one. And by casting non-singers and non-dancers in the key roles he also guaranteed that we would be swept up—or not—in the simple, age-old story of pursuing a dream while negotiating romance, without being forced to compare each musical number with Busby Berkeley and the golden age of Hollywood songfests.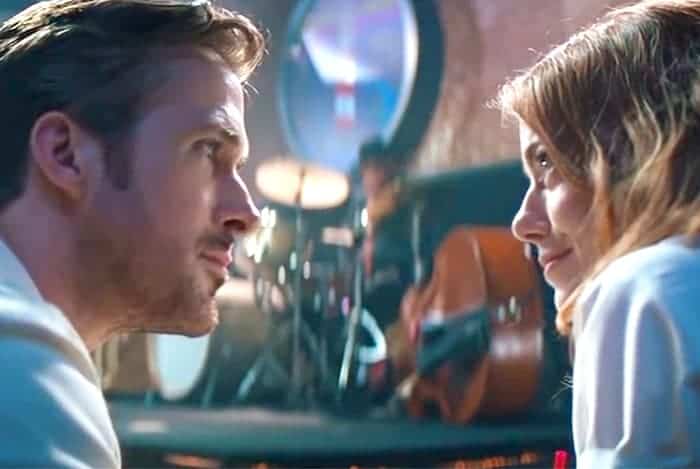 A feel good film for an angst-ridden era, such is the story of barista/acting hopeful Mia (Emma Stone) and lounge pianist Sebastian (Ryan Gosling), who is hellbent on playing authentic jazz in a club of his own one day. As the couple keeps meeting, and running into each other here and there, Chazelle peppers each scene with sudden bursts of sung soliloquey or exuberant dance play. Given the enormous appeal of the two leads, we simply go with whatever they want to show us, and upon their chemistry the film hitches its Golden Globe-winning star.
Sorry, but unlike the Golden Globe judges, I cannot find an Oscar for Best Picture in this well-trodden scenario, no matter how poignant the rags to riches tale. I can feel the two actors working their way outside their comfort zones, although the sauciness of Stone's enormously expressive face and gestures elevates her slender vocal abilities and simple dance steps. What she may lack in Cyd Charisse chops she almost makes up for in sheer upbeat energy. Gosling too appears to be counting the beats to his dance moves, but he is utterly convincing when he sits down at the piano. Yes, he actually did do his own playing.
BUT—should a film win the Oscar just for lifting our spirits in the old college try Mickey Rooney and Judy Garland way? Should it sway the Motion Picture Academy just because it revives a genre long gone fallow and for which Hollywood was once universally famed?  Hmmm – maybe that's actually what IS going on here.
Here's the deal: It's impossible not to see La La Land as a blatant promotion for Hollywood itself, for movies watched on the Big Screen, for the entire golly gee enterprise of Show Business! And anyone who's ever dreamed of seeing her name in lights will find much of this movie downright inspiring. And undeniable fun. It is a cry for attention from an increasingly cash-strapped industry attempting to wrestle viewers away from Netflix, Amazon, and the comfort of home live streamed movies. Whether giving itself a lot of awards will coax Millenials out of their couches and into the high-priced seats in theaters, is anybody's guess. And mine is that awards of this type amount to marketing selfies—we say we're great so you should agree. La La Land does no harm, but it's no more a daring revival of the musical genre than any Geico commercial.