Home; Art @ 08 Jul 2013 03:44 pm by Christina Waters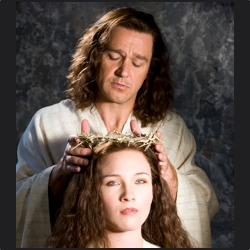 Not the enigmatic companion of first century evangelist Jesus, but the woeful new opera by Mark Adamo, commissioned in a moment of cerebral lassitude by the usually stalwart San Francisco Opera. Adamo had six years to work on this so there is absolutely no excuse for the clueless visual and musical mishmash I endured last weekend.
Having waited all season for this operatic version of one of my favorite ancient sagas, I was dumbfounded to discover that Adamo had neither narrative insight nor compositional vision to apply to this opera. A few good singers had to endure the embarrassment of singing excruciatingly clunky lyrics (written by the hapless Adamo), and a set that can only be described as a construction site.
Standing on top of the site, or milling around (more…)