Home @ 17 Jan 2015 01:51 pm by Christina Waters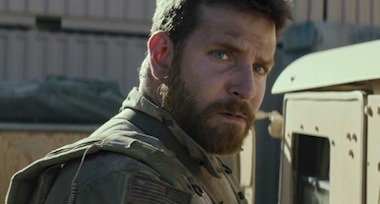 American auteur Clint Eastwood has delivered yet another provocative work in American Sniper. A physically transformed Bradley Cooper, as legendary marksman Chris Kyle, leans into the addictive allure of the Iraq conflict and illuminates Eastwood's latest masterpiece.
An unflinching anti-war film that is draped in the American flag, Sniper forces us into the chilling midst of modern ground level warfare. Cooper, bulked up and Texas drawled, plays real-life Navy SEAL sharpshooter Kyle, who in his unimaginable four tours of duty performed feats of heroism and marksmanship that earned him the nickname "The Legend," among military aficionados, and a bounty on his head among the Iraqi.
Eastwood and his cinematographer Tom Stern plant us in the dust and rubble of war-torn Ramadi, while the SEALs hunt and seek and attempt to take out the savvy and wily enemy, including a brutal assassin called "The Butcher." Kyle became a born-again (radicalized?) patriot on the morning of 9/11 and believes without question that his duty was to take out the "bad guys" who threaten his fellows and his country.
Working with the cool confidence of a master, Eastwood believes in his subject—that war is hell, that sometimes we are capable of selfless actions, and that the emotional disconnect between vets and their families is often irretrievable. Eastwood is at his best at probing the quiet moments of unconscious damage done by Kyle's kill count. (more…)