Home @ 14 Aug 2015 03:39 pm by Christina Waters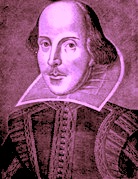 Is it too late for Shakespeare? I don't mean the powerful texts themselves, the probing psychological depths, and brilliant literary analysis of what it is to be human—you know, the stuff that William Shakespeare, hard-working playwright, bequeathed to everyone who loves the English language.
No. What I'm asking is, is it too late for young, Selfie Generation audiences to actually sit through a performance of a Shakespeare play? Have they the attention span? Are they capable of submitting themselves to un-ironic moments of joy, sorrow, terror? Do they even know what the words (or scenarios) mean?
Since I'm asking, I'll answer: not "no they don't," but "hell no they don't!"
Given what I've seen lately in a certain redwood glen very very close (more…)