Home @ 01 May 2015 03:38 pm by Christina Waters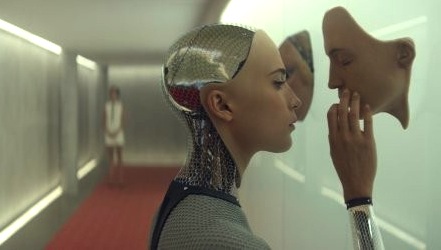 Yes, but who—or what—is the deus in this taut probe of artificial intelligence?
Directed by sci-fi screenwriter Alex Garland, Ex Machina slowly turns some of the major questions of futuristic metaphysics (e.g. Philip K. Dick) around in its spare, elegiac hour and 45 minutes. With complete precision the film moves like a beautiful Swiss watch, involving only a few moving parts. It is impossible to stop watching.
Irish actor Domhnall Gleeson is Caleb, a young programmer selected by billionaire über scientist (read Victor Frankenstein) Nathan Bateman (Oscar Isaac) to take part in a variation on the Türing test (is an artificial creation capable of exhibiting seamless consciousness). Helicoptered to Nathan's remote compound (you can feel Mary Shelley haunting the wild and rocky periphery) Caleb meets both the creator, and his creation Ava (Alicia Vikander) a disturbingly perceptive composite of beauty and circuitry. Caleb has seven days in which to decide whether Ava is the real deal. Is she capable of self-awareness, emotion, humor, and deception? Without revealing crucial plot details, the short answer is hell yes! What happens, however, as we gradually gain increasing knowledge that things are not what they seem (more…)