Home @ 26 Jun 2014 06:27 pm by Christina Waters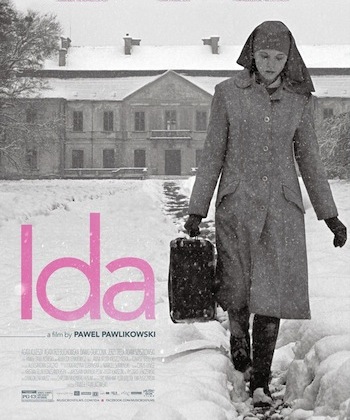 From the first frame, you are hooked. Yes partly because Ida, written and directed by Polish filmmaker Pawel Pawlikowski, is shot in raw black and white. Partly because the camera is most often stationary, allowing actors to move in and out of our viewpoint—creating a softly unsettling sense of time standing still.
But the visual secret of this mesmerizing 85-minute masterpiece is the choice of an almost square aspect ratio. Instead of the wide horizontals of contemporary filmography, we watch the small, unflinching story emerge in a compressed space. The pressure on all sides pushes the action—such as there is in this quiet, steady pursuit of truth lost—pushes it into a space without time. A continuous Now. We could read this film forwards or backwards. Is it redeeming the past? Or is it pointing toward the inevitable recurrence of the future?
The story, if explained to someone who hasn't seen the film, will sound unlikely.  A young novice, Ida (played by Agata Trzebuchowska) about to take her final vows, learns of the existence of an aunt—her only blood relative—and is told she must visit this woman before she can enter the religious life for good.
The aunt is played with the sort of spare visual dominance of a dark Ingrid Thulin by Agata Kulesza, a veteran Polish stage actress who is nothing short of shattering. As a former (more…)