Home @ 01 Feb 2014 05:23 pm by Christina Waters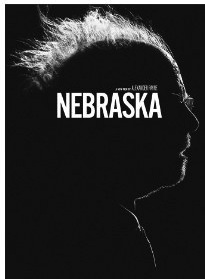 Having finished my popcorn, I had no more excuse for staying in my seat. So I walked out after about 50 minutes of this exercise in conceptual vacuity. "Unwatchable" comes to mind as I ponder what aberration of judgment caused the Motion Picture Academy to nominate Nebraska for: Best Cinematography (visual tedium in black and white); Best Picture (they obviously needed one more title to round out the required ten nominees); Best Actor, Bruce Dern (for once, too smart for the part); Best Supporting Actress, June Squibb (reminiscent of those elder alarm commercials, i.e. "I've fallen down and I can't get up); Best Directing, Alexander Payne (clearly a political payoff).
What were they thinking?
Bruce Dern is the centerpiece of this fuzzy road saga, playing an aging blue collar alkie headed to Nebraska to collect a sweepstakes prize. The acting is wretched, littered with cardboard comments and responses which are worsened by the lack of a believable script. Yes perhaps there are lots of losers in the vast stretches of American high plains country. But watching the squirm-making (more…)