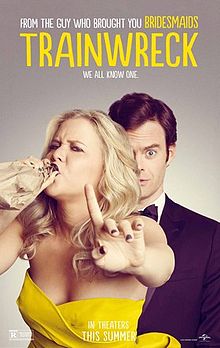 Sure I'm the last person on the block to see this vehicle for the highly touted talents of apple-cheeked Amy Schumer. But let me be the first to walk away unimpressed.
The film poster (left) is funnier than anything in the film.
The film's uneven pacing offers oft-witty, but mostly flat cameos. And it's shockingly laced with NBA promos (even though I'll admit that LeBron James, playing himself, is a delight). But where it should have tightened up and stayed tough—Schumer is supposed to be a free spirited, unrepentent single career gal who loves sex, booze and drugs—the film caves. She gets all kinds of weepy domestic advice from colleagues and family—especially her sister, played by Brie Larson who steals every scene she's in from Schumer.
Schumer's character works for a smut magazine whose editor is a shrill Tilda Swinton, playing the crude soulless boss, aiming for the bracing tone of Ab Fab's hilarious Joanna Lumley, "sweetie baby." But even the great Swinton fails to pump energy into this mis-directed pastiche.
On assignment to write a behind the scenes article about a sports medicine specialist, played by Bill Hader, Schumer finds herself getting interested in the doctor for more than just a quickie. Fine. Sex in the City. Seinfeld. SNL. Meg Ryan. Tina Fey. Jennifer Lawrence in American Hustle. Joan Rivers for God's sakes! We've seen this before. Continue reading "Trainwreck is a trainwreck"