Home @ 23 Oct 2013 11:15 am by Christina Waters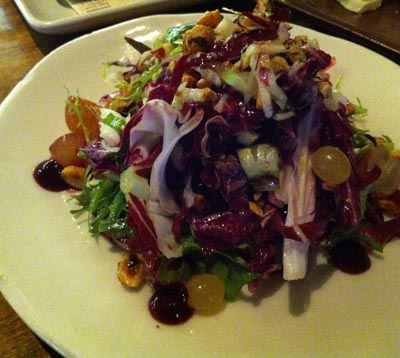 Perhaps this was the  "there" that Gertrude Stein claimed was missing from the "other" city by the Bay.  Haven is the sister Oakland dining room to Daniel Patterson's celebrated Plum. Smart, vibrant and pulsing with exhibition kitchen vibes, Haven offers labor-intensive dishes that create genuine excitement for eye and palate. And most of the intriguing dishes I sampled last Sunday night worked brilliantly.
The kitchen is packed with guys in black engaged in some invisible choreography surrounding each plate. Attractive stoneware plates and platters add to the eye candy. The menus are tantalizing, and so is the bar menu of eccentric cocktails and designer liquors, including a very long list of top flight single malts. Let me put it this way, Haven makes its own house Cynar.
We started with shared plates of roasted cauliflower in brown butter with a thin pool of salty garum on the bottom. This house likes to use salt as a condiment I discovered—sometimes this was welcome. Sometimes it overwhelmed.
A second shared salad of shredded chicories (shown above) was flat out sensational. (more…)