Home @ 08 Dec 2014 05:08 pm by Christina Waters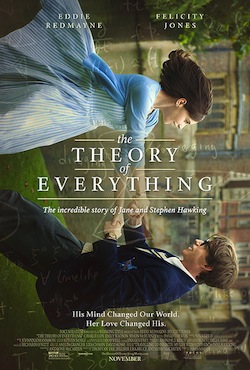 I expected treacle, but The Theory of Everything turned out to be a beautifully-crafted biopic about astrophysicist Stephen Hawking, his intellectual ascent and his physical decline. Kudos to confident director James Marsh.
Made from a book by his wife Jane—who married Hawking (Eddie Redmayne) while he was a student at Cambridge and stood by him during the entire devastating course of the onset of motor neuron disorder — the film moves swiftly thanks to a superb cast and cinematic expertise. Hawking is a well-known figure, both in the rarified halls of cosmological theory, and in popular culture. His disease, his wheelchair, his electronically-generated "voice", his impish grin—all are fairly iconic to anyone who can pick up a copy of People magazine.
Smartly photographed and well played, The Theory of Everything, reveals a bit of the back story we're all keen to discover. As the sympathetic, brave, and ultimately weary wife, actress Felicity Jones is perfect. Her resolve, her deep interest in him and in maintaining his dignity, are all etched on the screen in the actress' deft and very lightly-drawn portrait.
As Hawking, British theatrical wunderkind Eddy Redmayne outdoes Daniel Day Lewis' left foot, if you know what I mean. It manages to avoid being the predictable freak show, and yet it also avoids shedding insight into the bold and controversial theories that have made Hawking the stuff off Isaac Newtonian legend.
A nice way to pass a few hours. Watch Redmayne, on the fast track to be next year's Benedict Cumberbatch.