Home @ 06 May 2014 10:48 am by Christina Waters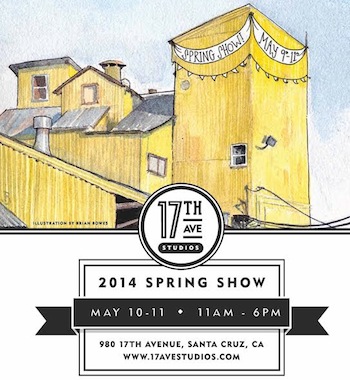 17th Avenue Studios in Santa Cruz is hosting a Spring Art Show May 10th and 11th (Mother's Day weekend).  The first of four collective 2014 exhibitions by the group'sdiverse artists. 40+ studios will be open from 11:00 AM to 6:00 PM Saturday and Sunday. You'll see hundreds of beautiful original artworks, meet the artists  and get a glimpse into the creative processes behind their work.
The Zameen Mediterranean Cuisine food truck will be on the scene Saturday from 12:00 to 2:00 PM, along with live music by The Crooked Road Ceili Band, a local Celtic trio.
Art is mother to us all so bring your Mom - 980 17th Avenue. And it's all FREE.