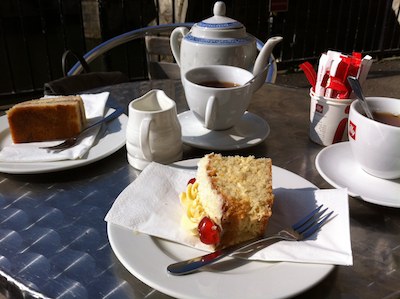 The British fondness for sweets is alive and well, as we quickly discovered. Tea time is not simply something tourists want to experience—it is the national pastime, at all times of day!  Here is a lovely sampling of tea and cakes we enjoyed overlooking the Avon on the Pulteney Bridge. Note the brilliant sunlight: it was a day that had me combing the town for sunscreen.
Our day trip to Avebury stones—the highlight of our wanderings through prehistoric southwest Britain—took us to several enchanting villages, notably the impressively preserved Lacock, loaded with half-timbered 15th century structures and thick roofs of authentic thatch (see image below). Lacock was lovely, and some on our tour enjoyed recognizing the village from many (many) BBC history dramas, including "Wolf Hall" and a few Harry Potter films as well.
The magnificent site of Avebury, with its huge rings of hundred-ton standing stones dwarfed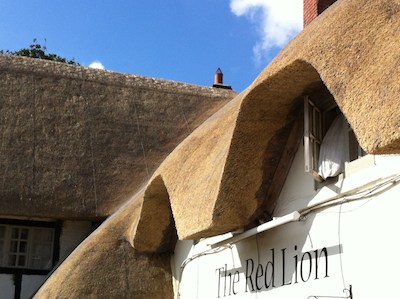 Stonehenge as far as I was concerned. Poor Stonehenge had the uphill battle of trying to contend with our ubiquitous onslaught of Stonehenge imagery—we've all grown up seeing that heroic stone circle reproduced on tote bags, tea towels, T-shirts, and toys. The surprisingly small circle of real life stones didn't have much of a change to impress. But Avebury did!