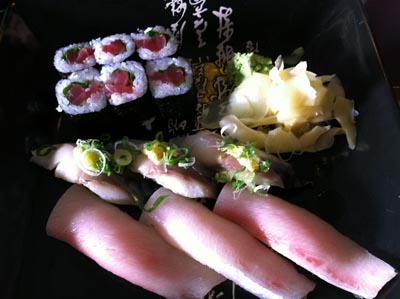 The lively fish, wasabi and ginger creations at Sushi Totoro just get better and better. Here was a recent dinner of saba nigiri (center, with micro dice of lemon and scallion), tekka maki with shiso leaf and an ethereal trio of hamachi nigiri. (I used my iPhone for...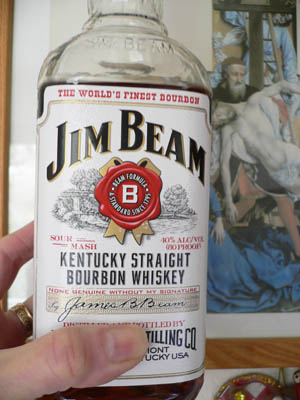 When my sister and I were little, we would make the annual trek to Aunt Mariana and Uncle Doodle's house for a holiday visit. Aunt Mariana would reach up high into her pantry and take down the fruitcake we were forced to eat each Christmas. My sister and I would...
read more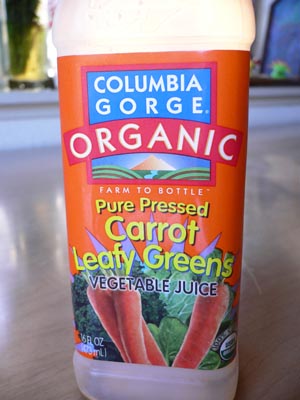 Little did I know that I would grow up to consume a breakfast liquid that closely resembles industrial effluent, or rain forest mud mixed with compost. But I do. And I love this stuff. It's loaded with carrot, celery, cucumber, collard greens, kale and parsley. It's...
read more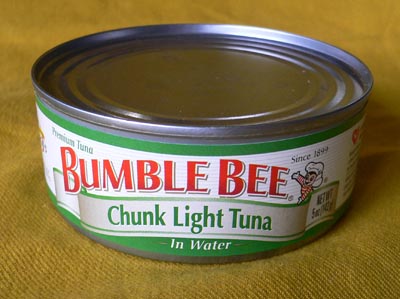 Actually, it could be about any packaged product on the market today. The incredible shrinking product. It started with the size of the cardboard roll inside toilet paper rolls.  The cardboard cylinder is noticeably (i.e. MUCH) wider in diameter than it used to be....
read more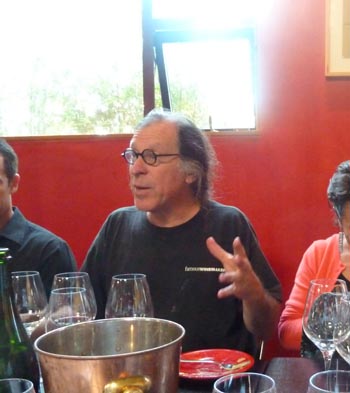 A recent vertical tasting of Le Cigare Volant—the Bonny Doon Vineyard flagship creation—showed off the evolving style, and substance, of vintage 1993 through 2009 of Randall Grahm's main squeeze. Incidentally the odd-numbered years showed especially well....
read more
Got a terrific video clip about Uncommon Brewers, from videographer Keith Wells. Just in time for your own private Octoberfest. Take a look.
read more
I admire the entrepreneurial spirit as much as the next woman, but I just have to wonder (to quote late-night talk hostess Joyce Riley) - "What were they thinking?" I am musing about the sign currently placed at the front of the former Bella Napoli, the former Il...
read more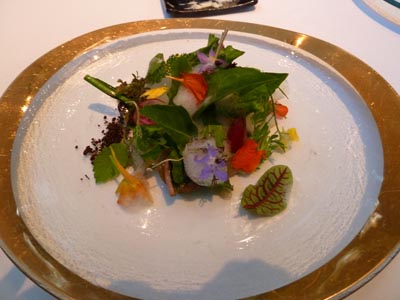 Last month the dishes arrived like bright, colorful jewels from the kitchen of David Kinch.Here is a celebrated plate — Into the Garden — in which choice morsels of what's freshest and most appealing from Kinch's grower, Love Apple Farm. Served on an...
read more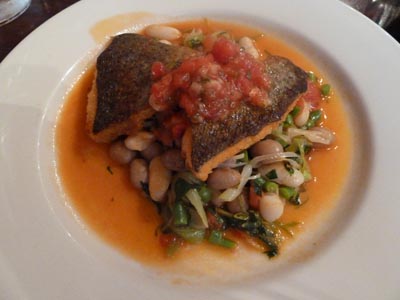 A salad of trout, crisp skin/moist flesh, on a bed of green garlic, infant diced green beans, dry-farmed tomatoes and mixed shelling beans. Too...
read more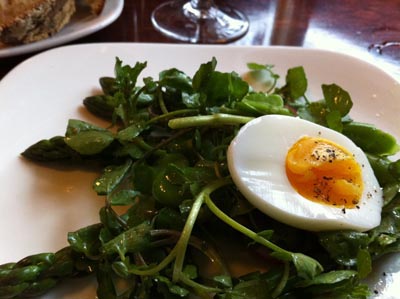 Tuesdays, la Posta. The marvelous live mandolin and guitar music, the house Montepulciano, the neighborhood special....$15 for pizza and a glass of house wine. We added this sparkling fresh salad of watercress and fava beans, topped with a perfect egg from the house...
read more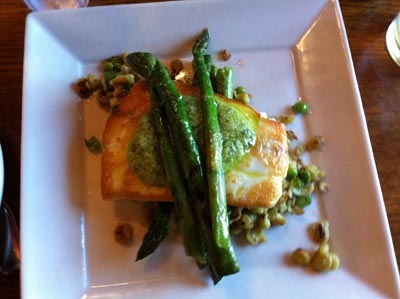 We had a terrific dinner last night at the Davenport Roadhouse. All four of our entrees, including a mushroom risotto, steelhead with pesto, roasted local halibut on a bed of favas and lemon spaetzle and my order of rare hanger steak atop lemony fresh artichoke...
read more