12 Nov 2014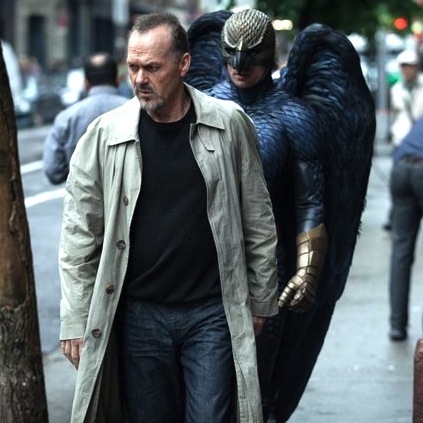 I'm still trying to wrap my head around this surreal bit of brilliance. Michael Keaton's performance in Birdman is blazing.
In one of the purest cases of art imitating life, this stunning film casts former action hero Batman Michael Keaton as a former action hero "Birdman" movie star Riggan Thompson. Like his character, Keaton seemed to have dropped off the big screen for the past decade, and in both metaphorical and literal senses Birdman is his comeback as a leading man. A resounding, unforgettable, Oscar-contender comeback!
Directed by Babel's Alejandro Iñarritu, with taut camerawork by Gravity's Oscar-winner Emmanuel Lubezki, the film defies easy categorization. A mannered—at times surreal—black comedy of backstage egos, psychodrama, and promiscuity, the film follows the three final days of theatrical rehearsals and previews before Thompson's opening night on Broadway. Starring in a play he wrote and directed, Thompson is an engaging mass of anxieties. His daughter (Emma Stone) fresh out of rehab is working in the theater and loaded with attitude. His co-star (Edward Norton) is gunning for top billing. Various current and former mistresses, as well as an ex-wife, continue to plague his last grasp at self-worth. Throw into this mix a stalwart producer buddy (Zach Galifianakis) and a caustic New York theater critic (Lindsey Duncan) determined to destroy his new show and you have every stereotype needed to explore the thorny jungle of theater.
Whether we get to be the hero of our own life, or whether we simply play that part, More…